"Where's the ferry?"
A seafood restaurant on the Puget Sound gets a marketing campaign to promote its new waterfront patio.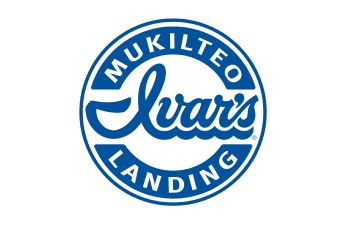 Services
Marketing Strategy
Campaign Creation
Visual Design
Copywriting
Illustration
Ivar's is a Washington restaurant staple for all things seafood. One of their restaurant locations in Mukilteo opened a new outdoor patio for a waterfront dining experience. The waterfront space became available after the ferry that was previously there was removed, leaving an opening for Ivar's to extend their patio and allow diners to enjoy views of the Salish Sea. We were tasked with spreading the word about the new patio and collaborated with Ivar's to create a unique campaign.
"The ferry was bored of only sailing back and forth and it decided to sail to a desert island and couldn't find its way back. The ferry said, "This is the hardest thing ever and we can't find our way back!" A huge whale said "hello, would you like a ride?" And the ferry said, "of course" and got on the whales back all the way back to Seattle. The end."
Reese, 5 yo, contest participant
The Challenge
Ivar's is known for it's quirky ads and hilarious puns featured around the restaurants. We wanted to stay on brand and offer an equally unique and quirky campaign similar to what has worked for them in the past. Our initial ideas were inspired by sea creatures, Ivar's clam people, the absence of the ferry, and PNW summer.
WTF? (Where's the Ferry) Print Ads
We landed on a cheeky idea that the ferry has been 'stolen' from it's dock and we have no clue how this could have happened. Where could it have gone?!

We looked to Ivar's customers and Mukilteo locals for answers in the form of song, prose, poem, art, woodcarving, etc. The winner of the contest would receive Ivar's iconic plate of fish & chips FREE for one year.
Fake News
The marketing strategy included two print ads that ran in the local paper. One of them mimicked the layout and style of a typical article with a fake news story about the 'missing' ferry.
Social Media
We also created a social media post, print poster, and contest landing page to continue to spread the word. The contest gained a lot of visibility. Ivar's received over 200 entries, ranging from kids, to people in their mid 90s.